Benefits Of Window Replacement & Door Replacement In Saginaw, MI: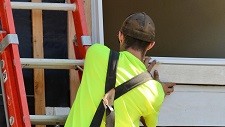 Saginaw MI Windows
Energy efficient window replacement and exterior door installation
Benefits of Window Replacement & Door Replacement in Saginaw, MI:
Energy savings
Comfort and convenience
Curb appeal
Low maintenance
Increased security
Saginaw MI windows doors more than 20 years old?
Do you feel a cold draft when standing by a window during the cold winter months in Saginaw, MI? Are your windows difficult to open, close or lock?
At Energy Plus, it's our job to diagnose energy-loss symptoms like these and design a plan to increase the energy efficiency of your home, improve interior comfort and even save you money on your monthly utility bill.
As the the best Window Installation Company in Saginaw, MI, we provide homeowners with energy savings and comfort, by installing the best replacement windows that increase the home's curb appeal, security and require low maintenance. Click the button below to view windows and door replacement options.
View our Window Design Showcase, Including Homes in Saginaw, MI & Surrounding Areas
Windows and Door Replacement can save energy and money
Windows and exterior doors play a big role in the energy performance of your Michigan home. They serve as part of the home's "building envelope," which separates interior living space from outside elements. This means that when windows and exterior doors aren't up to par in terms of energy performance, this can take a toll on the home's overall energy efficiency and comfort level.
The good news is that installing new energy-efficient exterior doors and replacement windows can improve your home's energy performance, as well as visual appeal.
Get a free quote for windows and door replacement.
The estimate was fair and Chris understood what I wanted to accomplish. His knowledge was an important factor in me choosing them to do my special job.

Terry, Saginaw, MI